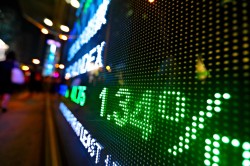 Proteomics Int Lab (ASX:PIQ)'s share price rose 15.5% on Friday . The stock traded as high as A$0.38 ($0.27) and last traded at A$0.34 ($0.24), approximately 1,796,607 shares were traded during trading. The stock had previously closed at A$0.29 ($0.21).
The stock has a market cap of $27.14 million and a PE ratio of -12.88. The firm's 50-day simple moving average is A$0.28. The company has a debt-to-equity ratio of 5.52, a current ratio of 5.91 and a quick ratio of 5.74.
Proteomics Int Lab Company Profile (ASX:PIQ)
Proteomics International Laboratories Ltd operates as a medical technology company with a focus on the area of proteomics. It provides PromarkerD, a predictive test for diabetic kidney disease; and develops diagnostic tests for endometriosis and giardia. The company also offers analytical services, including specialist contract research, analytical, and consultancy.
Featured Article: Green Investing
Receive News & Ratings for Proteomics Int Lab Daily - Enter your email address below to receive a concise daily summary of the latest news and analysts' ratings for Proteomics Int Lab and related companies with MarketBeat.com's FREE daily email newsletter.