Philip Morris International (NYSE:PM) issued an update on its FY19 earnings guidance on Thursday morning. The company provided earnings per share guidance of $5.14 for the period, compared to the Thomson Reuters consensus earnings per share estimate of $5.21. Philip Morris International also updated its FY 2019 guidance to $4.73 EPS.
A number of equities analysts have issued reports on the stock. Barclays raised shares of Philip Morris International from an equal weight rating to an overweight rating and raised their target price for the stock from $82.00 to $100.00 in a report on Friday, July 19th. ValuEngine raised shares of Philip Morris International from a sell rating to a hold rating in a report on Saturday, October 19th. Cowen reissued a hold rating on shares of Philip Morris International in a report on Thursday, September 12th. Stifel Nicolaus reissued a buy rating on shares of Philip Morris International in a report on Tuesday, October 15th. Finally, Wells Fargo & Co cut their target price on shares of Philip Morris International from $102.00 to $100.00 and set an outperform rating on the stock in a report on Friday, October 18th. One research analyst has rated the stock with a sell rating, five have issued a hold rating and nine have assigned a buy rating to the company's stock. The stock presently has an average rating of Buy and a consensus price target of $92.27.
Shares of PM traded up $1.32 during mid-day trading on Friday, reaching $83.57. 5,186,003 shares of the company's stock traded hands, compared to its average volume of 5,853,548. The business's 50-day moving average price is $78.81 and its 200-day moving average price is $80.34. The stock has a market capitalization of $131.00 billion, a P/E ratio of 16.39, a price-to-earnings-growth ratio of 2.05 and a beta of 1.00. Philip Morris International has a 12 month low of $64.67 and a 12 month high of $92.74.
Philip Morris International (NYSE:PM) last released its quarterly earnings results on Thursday, October 17th. The company reported $1.43 earnings per share for the quarter, beating the Zacks' consensus estimate of $1.35 by $0.08. The company had revenue of $7.64 billion for the quarter, compared to analysts' expectations of $7.65 billion. Philip Morris International had a negative return on equity of 82.33% and a net margin of 9.59%. The business's revenue for the quarter was up 1.8% compared to the same quarter last year. During the same quarter in the previous year, the company posted $1.44 earnings per share. As a group, analysts expect that Philip Morris International will post 5.23 EPS for the current fiscal year.
The business also recently disclosed a quarterly dividend, which was paid on Friday, October 11th. Investors of record on Wednesday, September 25th were paid a dividend of $1.17 per share. This represents a $4.68 dividend on an annualized basis and a dividend yield of 5.60%. The ex-dividend date was Tuesday, September 24th. This is a positive change from Philip Morris International's previous quarterly dividend of $1.14. Philip Morris International's dividend payout ratio (DPR) is currently 91.76%.
About Philip Morris International
Philip Morris International Inc, through its subsidiaries, manufactures and sells cigarettes, other nicotine-containing products, and smoke-free products and related electronic devices and accessories. The company offers IQOS smoke-free products, including heated tobacco and nicotine-containing vapor products under the HEETS, HEETS Marlboro, and HEETS FROM MARLBORO brands, as well as the Marlboro HeatSticks and Parliament HeatSticks brands.
Read More: Capital Gains Distribution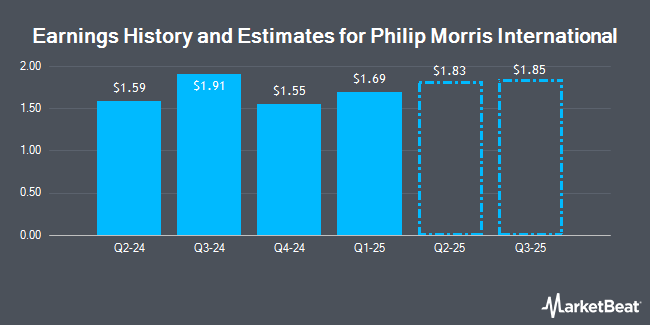 Receive News & Ratings for Philip Morris International Daily - Enter your email address below to receive a concise daily summary of the latest news and analysts' ratings for Philip Morris International and related companies with MarketBeat.com's FREE daily email newsletter.