National Express Group (LON:NEX)'s stock had its "top pick" rating reissued by analysts at Royal Bank of Canada in a research report issued on Friday, August 9th, Digital Look reports. They presently have a GBX 500 ($6.53) target price on the stock. Royal Bank of Canada's price objective would indicate a potential upside of 18.26% from the company's current price.
Several other analysts have also issued reports on NEX. Liberum Capital reissued a "buy" rating on shares of National Express Group in a report on Thursday, July 25th. JPMorgan Chase & Co. restated a "neutral" rating on shares of National Express Group in a research report on Wednesday, May 15th. Two investment analysts have rated the stock with a hold rating, four have given a buy rating and one has assigned a strong buy rating to the stock. National Express Group presently has an average rating of "Buy" and a consensus target price of GBX 465 ($6.08).
LON:NEX opened at GBX 422.80 ($5.52) on Friday. The stock has a 50-day simple moving average of GBX 414.76 and a two-hundred day simple moving average of GBX 408.22. National Express Group has a 52-week low of GBX 356 ($4.65) and a 52-week high of GBX 450.20 ($5.88). The company has a debt-to-equity ratio of 132.85, a quick ratio of 0.41 and a current ratio of 0.46. The firm has a market capitalization of $2.15 billion and a PE ratio of 15.37.
In other news, insider Matthew Ashley sold 5,048 shares of the business's stock in a transaction dated Thursday, July 25th. The stock was sold at an average price of GBX 436 ($5.70), for a total value of £22,009.28 ($28,759.02). Also, insider Dean K. Finch acquired 19,200 shares of the stock in a transaction dated Wednesday, June 19th. The stock was acquired at an average price of GBX 390 ($5.10) per share, for a total transaction of £74,880 ($97,843.98).
About National Express Group
National Express Group PLC provides public transport services in the United Kingdom, Continental Europe, North Africa, North America, and the Middle East. The company operates through UK, German Rail, ALSA, and North America segments. It owns and leases buses, coaches, and trains to deliver local, regional, national, and international transportation services.
Featured Article: Bid-Ask Spread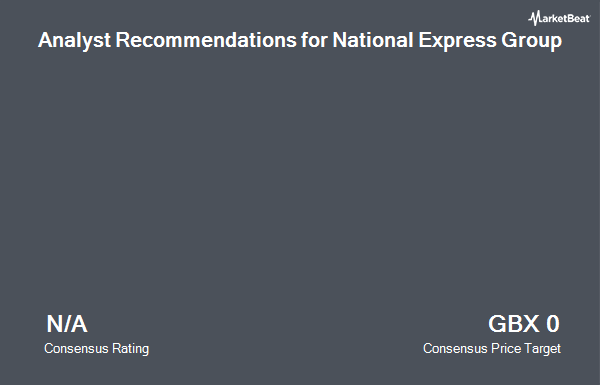 Receive News & Ratings for National Express Group Daily - Enter your email address below to receive a concise daily summary of the latest news and analysts' ratings for National Express Group and related companies with MarketBeat.com's FREE daily email newsletter.