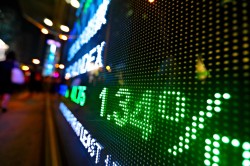 Columbia Sustainable Global Equity Income ETF (NYSEARCA:ESGW) shares traded up 0.4% on Wednesday . The company traded as high as $26.05 and last traded at $26.16. 150 shares traded hands during mid-day trading, a decline of 97% from the average session volume of 5,507 shares. The stock had previously closed at $26.05.
ILLEGAL ACTIVITY NOTICE: This piece of content was originally reported by Tech Know Bits and is the property of of Tech Know Bits. If you are reading this piece of content on another domain, it was stolen and republished in violation of international trademark and copyright laws. The original version of this piece of content can be accessed at https://techknowbits.com/2019/06/19/columbia-sustainable-global-equity-income-etf-nysearcaesgw-trading-0-4-higher.html.
Featured Story: Why are gap-down stocks important?
Receive News & Ratings for Columbia Sustainable Global Equity Income ETF Daily - Enter your email address below to receive a concise daily summary of the latest news and analysts' ratings for Columbia Sustainable Global Equity Income ETF and related companies with MarketBeat.com's FREE daily email newsletter.