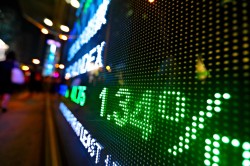 F&C Commercial Property Trust Ltd (LON:FCPT) insider John Wythe purchased 16,733 shares of the company's stock in a transaction dated Friday, May 17th. The stock was purchased at an average price of GBX 120 ($1.57) per share, for a total transaction of £20,079.60 ($26,237.55).
Shares of F&C Commercial Property Trust stock remained flat at $GBX 119 ($1.55) during mid-day trading on Tuesday. 1,109,157 shares of the company were exchanged, compared to its average volume of 831,016. F&C Commercial Property Trust Ltd has a 1-year low of GBX 1.41 ($0.02) and a 1-year high of GBX 155 ($2.03).
The company also recently announced a dividend, which will be paid on Friday, June 28th. Investors of record on Thursday, June 13th will be issued a dividend of GBX 0.50 ($0.01) per share. The ex-dividend date is Thursday, June 13th. This represents a yield of 0.41%.
COPYRIGHT VIOLATION WARNING: This story was published by Tech Know Bits and is the property of of Tech Know Bits. If you are accessing this story on another website, it was copied illegally and republished in violation of US & international copyright law. The original version of this story can be read at https://techknowbits.com/2019/06/11/insider-buying-fc-commercial-property-trust-ltd-fcpt-insider-purchases-16733-shares-of-stock.html.
F&C Commercial Property Trust Company Profile
F&C Commercial Property Trust Limited operates as a property investment company in the United Kingdom. The company primarily invests in a portfolio of commercial properties, including office, retail, and industrial sectors. F&C Investment Business Limited serves as the investment manager to F&C Commercial Property Trust Limited.
Featured Article: Fundamental Analysis – How It Helps Investors
Receive News & Ratings for F&C Commercial Property Trust Daily - Enter your email address below to receive a concise daily summary of the latest news and analysts' ratings for F&C Commercial Property Trust and related companies with MarketBeat.com's FREE daily email newsletter.