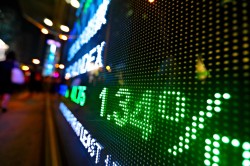 Quorum Information Technologies Inc (CVE:QIS) – Equities researchers at Beacon Securities issued their Q1 2019 EPS estimates for shares of Quorum Information Technologies in a note issued to investors on Tuesday, April 30th, according to Zacks Investment Research. Beacon Securities analyst G. Leung expects that the company will post earnings of ($0.01) per share for the quarter. Beacon Securities also issued estimates for Quorum Information Technologies' Q2 2019 earnings at ($0.01) EPS, Q3 2019 earnings at ($0.01) EPS and Q4 2019 earnings at $0.00 EPS.
Shares of CVE:QIS traded down C$0.02 during mid-day trading on Thursday, reaching C$0.72. The stock had a trading volume of 17,500 shares, compared to its average volume of 33,713. The company has a market capitalization of $42.94 million and a price-to-earnings ratio of -55.38. The company has a debt-to-equity ratio of 36.93, a current ratio of 1.90 and a quick ratio of 1.67. Quorum Information Technologies has a twelve month low of C$0.49 and a twelve month high of C$0.82.
Quorum Information Technologies Company Profile
Quorum Information Technologies Inc, an information technology company, focuses on the automotive retail business in Canada and the United States. It develops, markets, implements, and supports XSELLERATOR, a dealership and customer management system that automates, integrates, and streamlines various processes across departments in a dealership; and Autovance Desk, an automotive sales desking system.
See Also: What are earnings reports?
Get a free copy of the Zacks research report on Quorum Information Technologies (QIS)
For more information about research offerings from Zacks Investment Research, visit Zacks.com
Receive News & Ratings for Quorum Information Technologies Daily - Enter your email address below to receive a concise daily summary of the latest news and analysts' ratings for Quorum Information Technologies and related companies with MarketBeat.com's FREE daily email newsletter.