Oil prices fall on OPEC output increase, rising USA crude stocks
Adam Floyd
The American Petroleum Institute reported crude inventories rose 2.8 million barrels last week while gasoline supplies increased by 1.8 million.
The disclosures were made in OPEC's latest monthly report, which reveals that output rose by 336,000 barrels per day (bpd) in May to 32.14 million bpd, more than its forecast of average global demand for its crude in 2017; this is despite Saudi Arabia, which voluntarily cut production below its target during the initial cutback, lowering output again in May by about 66,000 bpd to 9.88 million bpd.
On the New York Mercantile Exchange, light, sweet crude futures for delivery in July CLN7, -1.10% traded were recently down 1%, or 47 cents, at $46 a barrel in the Globex electronic session while August Brent crude LCOQ7, -0.92% on London's ICE Futures exchange fell 42 cents, or 0.9%, to $48.30.
Riyadh is leading an effort by the Organization of the Petroleum Exporting Countries, Russia and other oil producers to cut output by nearly 1.8 million bpd until March 2018 to curb oversupply.
Adding to the supply surplus is rising USA production from shale drillers that has pushed US output up by 10 percent over the a year ago to 9.3 million bpd, not far below levels by top exporter Saudi Arabia.
Those efforts thus far have largely not succeeded. Brent futures are trading at higher prices for further-dated contracts, which is an encouragment for more production rather than less.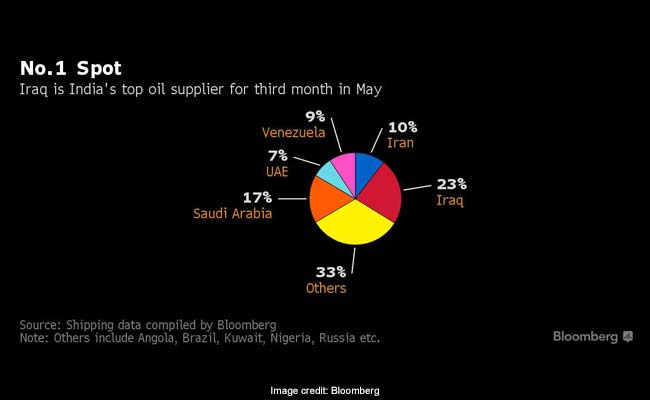 Iraq had been the No. 2 seller to India for years
OPEC stated, "The rebalancing of the market is under way, but at a slower pace, given the changes in fundamentals since December, especially the shift in US supply from an expected contraction to positive growth".
"Crude oil is still struggling to rebound", said Olivier Jakob, strategist at Petromatrix, adding that OPEC's gradual approach to rebalancing was giving USA producers time to drill new wells that were undermining the impact of the group's cuts.
"By some accounts this increase is a troubling threat to Opec compliance, but we note that it was driven by 352,000 bpd of additional supply from Libya and Nigeria", wrote Tim Evans, energy analyst at Citigroup.
In May, the world's largest oil producers agreed to extend their output cut deal into 2018.
Crude futures had shed more than 40 cents in the first few hours of trading Wednesday in Asia, in response to a build in United States crude and gasoline inventories reported by the American Petroleum Institute for the week ended June 9.
Chart 2 shows that a rebound in drilling activity doubled the usa oil rig count from its 2016 low. The IEA said stocks were 292 million barrels above the five-year average.